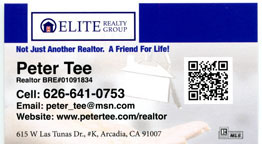 Property Law, Title and Possession.
Title is legal ownership. Possession is immediate control.
Titles can be issued to depict ownership of both personal and real property.
The different types of real estate title are joint tenancy, tenancy in common, tenants by entirety, sole ownership, and community property.

In property law, a title is a bundle of rights in a piece of property in which a party may own either a legal interest or equitable interest.


Licensed Real Estate Professional
Peter Tee
Realtor
Mobile # 626-641-0753

buy
sell
live well
since 1991